Greater Swiss Mountain Dog or Swissy
A Draft and Drover breed and should structurally appear as such. It is a striking, tri-colored, large, powerful, confident dog of sturdy appearance. It is a heavy boned and well muscled dog which, in spite of its size and weight, is agile enough to perform the all-purpose farm duties of the mountainous regions of its origin.
What to Look for in a Swissy Breeder
Only the proven healthiest and correct dogs should be used in a breeding program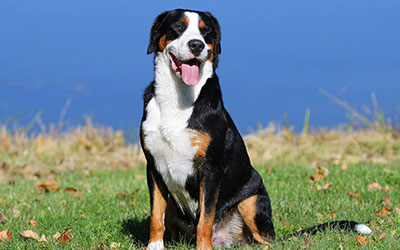 Health Clearances
Published, easy to find and honest
All dogs should have final health clearances before they are considered for breeding. A dog must be a MINIMUM of two years of age to have these done. Thus, all our breeding dogs are two years of age or older.
We link to each of our breeding dogs' health clearances on their pages so you can easily find that information. All dogs can and do have health problems. We strive to minimize these health issues and are honest with homes about what issues we have seen in our breeding program.
Health Issues in Greater Swiss Mountain Dogs
Breed Health Survey Results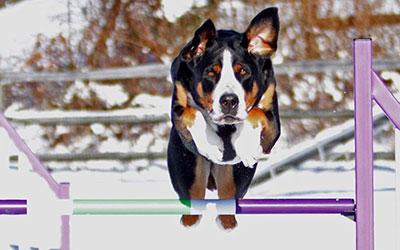 Conformation AND Performance
Proven mentally & physically stable
Our goal as breeders is to have Swissies that meet the breed standard - the way to prove this is by showing in conformation and earning a dog's championship.

We also strongly believe that a Swissy should be mentally and physically sound enough to earn working titles and most of our breeding dogs have titles at the end of their name to prove this.
As not just a breeder, but also an owner and trainer, we value the time we spend with our dogs training and pursuing working titles with them and thus can offer you valuable advice as well.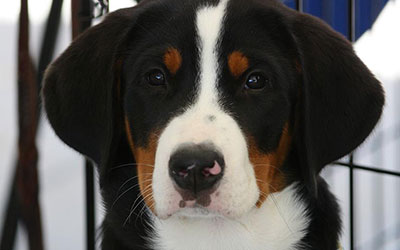 Raised Right
Puppies With the Best Start
Studies have shown that the first 12 weeks of a puppy's life is vitally important to how they will be as an adult.
All of our puppies are raised in the main area of our home and are accustomed to household noises, objects and people. We also take our puppies for socialization trips outside our house before they leave for their new homes.

We believe it is very important that both adult dogs and puppies are raised as part of the family so that as breeders we know the ins and outs of what it's like to live with each individual dog. All our dogs live in our home (not a kennel, garage, etc.) as part of our family.
Bold, faithful, willing worker
Nationally Recognized
2014 was a great year for us...here are a few highlights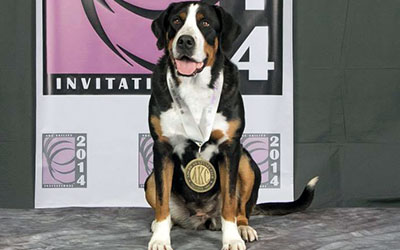 #1 Agility Greater Swiss Mountain Dog
Sara Lee
Sara Lee was the #1 Swissy to qualify for the 2014 AKC Agility Invitational and also was the #1 Swissy at the Invitational.

Sara Lee even took a four month break in 2014 to have her first litter. She truly is the epitome of a sound working dog...returning to the agility ring and winning after raising 11 puppies. So very proud of her and Jan!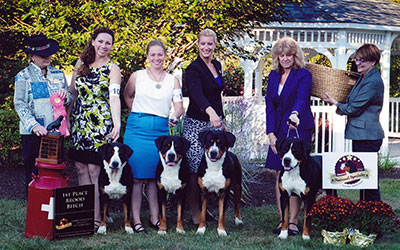 2014 GSMDCA National Specialty
Winners Dog & Brood Bitch
At the 2014 GSMDCA National Specialty we were honored to win Winners Dog with our boy Cherished The Last Crusade, Wally, out of our 'I' Litter from the 12 - 18 month class. Dolly also won the largest NS brood bitch class ever with her three boys Royce, Wally and Elliott.

Rye won Winner's Bitch at the Independent Specialty the day after the National from the BBE class as well.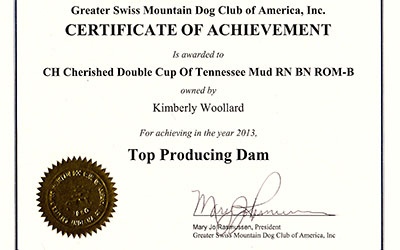 Top Producing Dam
Dolly
Each year one male and one female swissy is recognized as the 'Top Producer' for having their offpsring earn the most championships and also the most working titles in a given year.

Our girl, Dolly, won both 'Top Producing Dam' for champions and 'Top Producer of Working Titles' for 2013!